At Parents Plus, we can tailor our evidence-based programme training to best meet the needs of your service and those of the families that you work with. Our training can be delivered onsite or you can join our scheduled training for each programme.
Prior to commencing training we can work with you to:
Identify the specific outcomes that you want to achieve within your service or community
Identify the target families  you wish to deliver the Parents Plus programmes to
Conduct an assessment of family needs and goals
Match specific Parents Plus programme(s) for target groups to achieve best outcomes
Plan training for facilitators in the relevant programmes
Avail of post training support to implement your evidence-based groups and ensure sustainability
Follow the Parents Plus quality protocol as you deliver the groups to guarantee the best results
Support your facilitators through the accreditation process to ensure that your programmes are run consistently in your agency
Parents Plus are here to support you every step of the way in your implementation process. We provide agencies, both in Ireland and internationally, with coaching to managers and project leads, as well as facilitating planning workshops for large multi-agency community roll outs.
If you are a manager, service commissioner, or a lead facilitator, and you would like to avail of our onsite training or discuss your service needs and programme implementation,  email Claire@parentsplus.ie to discuss training solutions.
Parents Plus has extensive experience in evaluating and monitoring outcomes of the Parents Plus programmes so as to ensure continued benefits to families and communities. Integrating evaluation into your local delivery of the Parents Plus Programmes has a number of long term advantages, including
Ensuring that your programmes achieve lasting outcomes;
Learning how to adapt programmes to meet the individual needs of your local and regional communities;
Publishing and celebrating positive outcomes;
Recruiting new parents for future groups;
Building collaboration with parents and local community networks;
Empowering parents to become a support network for one another.
We can provide you with a range of tried and tested templates to successfully monitor and evaluate your groups. Please email claire@parentsplus.ie if you would like to book a consultation on evaluating your groups.
Parents Plus has an evidence-based Quality Protocol to ensure that you achieve the best outcomes for the families that you work with. The protocol is designed to ensure an effective delivery of the Parents Plus Programmes post training.
The Parents Plus Quality Protocol is explored in detail at your facilitator training and centres on a series of practices and checklists to ensure that you:
Establish client centred goals with families
Follow the core evidence-based principles of the programmes
Gain session by session feedback from clients to ensure you are making progress
Set aside a weekly reflective space in supervision to review client progress and your own practice.
Parents Plus also provides you with a series of checklists, which allow you and your co-facilitator to rate your practice development and to set specific goals for your development as facilitators.
See Parents Plus Quality Protocol and Facilitator Accreditation Process for more information.
The Parents Plus programmes are evidence–based mental health and parenting programmes for families that can be delivered by professionals under licence from the Parents Plus Charity under the following strict conditions.
Facilitator training
Parents Plus offers specific facilitator training and supervision to professionals who wish to deliver the programmes. Attending the training for each programme is compulsory and gives the facilitator the license to use the programme materials.
Who can attend training?
The Parents Plus Facilitator trainings are open to qualified education, mental health and community professionals. The programmes are run successfully in a wide range of settings including Primary Care, School, Health, Disability and Mental Health.
In special circumstances it is possible for people without the above professional qualifications to attend the training, such as parents who have completed a Parents Plus course and who are supported by a professional agency to be a co-facilitator. Please contact us if you wish to attend training in these circumstances.
Note
Attendance at the Parents Plus Trainings is compulsory for facilitators prior to delivering the groups;
Prior to accreditation, Parents Plus groups are to be co-facilitated, i.e. two trained Parents Plus facilitators must deliver the programme to parents / adolescents;
For more information, please read the full Parents Plus Licensing Guidelines.
Once you train in one of our evidence-based programmes, we will give you two FREE individual supervision sessions in the first year post training, to support you in your professional development. We also provide further supervision, advanced training and follow on seminars to all facilitators, if you wish to take your practice to the next level and become accredited in the delivery of the Parents Plus programmes. Sponsorship for further supervision is available on application.
Individual supervision
You can avail of a 50 minute face to face or Skype supervision session with a Parents Plus Trainer, to review your practice and to support you in delivering your groups. Central to your supervision is a review of the parent/young person goal forms and session rating forms, as well as the facilitator planning and review sheets. In addition, your individual supervision can be used to review video clips of your practice, and we can provide tailored feedback in order to further develop your practice skills and prepare for your accreditation application. Individual supervision sessions can also be organised for co-facilitators together who are running the same group and this is recommended.
Group Supervision and Practice Workshops
Parents Plus also provide regular half day group supervision and workshops, which are a great opportunity for you to reflect on and develop your practice and share your experience of running Parents Plus groups with others.
The workshop is for trained facilitators in any of the Parents Plus Programmes. You may be running a group, you may be aiming to get a PP group off the ground again in your service, or you may be a newly trained facilitator wanting support in getting started with a programme. This workshop also contributes to your supervision if you are completing the Parents Plus Accreditation process.
At the workshop, you will have a chance to connect with other Parents Plus facilitators in your area and learn from each other on how best to deal with challenges that may arise. You will also get lots of support and tips on all aspects of programme delivery.
The workshop will:
Help you develop your group facilitation skills;
Support you in getting PP groups up and running in your service;
Provide tips on recruiting parents to attend and to keep them coming each week;
Discuss specific challenges;
Provide information and support on progressing in the Parents Plus Accreditation process
As a trained Parents Plus Facilitator, you can sign up to our Resources section to gain access to
Valuable resources to help promote your groups
Best practice, articles and video tips from our Parents Plus experts
PowerPoint Presentations for the programmes
Q&A forum on practice issues
Archive of our facilitator specific newsletter
Additional programme handouts and posters
Parent Certificates
Parenting articles and links
Please sign up via our members section
Don't forget to sign up to the facilitator specific monthly newsletter, to keep up to date with best practice, research and insights for professionals working with children, adolescents and families.
Empowering professionals such as you to make a difference to families both in Ireland and abroad is of immense importance to us and forms the basis of everything that we do.
We understand that you may not have the extra time or resources to promote your Parents Plus groups, and so might not reach as many parents or referring agencies as you want to.
With this in mind, we offer the following marketing support to promote your groups by
Issuing press releases to local print and online newspapers and by contacting local radio stations on your behalf;
Advertising your upcoming groups on our website and social media platforms;
Providing you with PowerPoint presentations to share with referrers;
Providing you with tailored posters and fliers, to recruit fathers, mothers, carers or adolescents to your groups
If you are one of the professionals who would like additional support to advertise your groups, email Cherie@parentsplus.ie
Certification:
Completing the Parents Plus programme training will license you to co-deliver the programme under supervision in both group and one to one sessions with parents. See full licensing guidelines.
Advanced Certification and Accreditation
For facilitators who want to take their practice to the next level, Parents Plus has an established accreditation process, which supports facilitators to refine and enhance their facilitation skills and professional practice. Becoming accredited allows you to achieve a high standard of delivery in order to ensure the best outcomes for the families that you work with.
The benefits of gaining accreditation include:
A license to deliver the Parents Plus programmes in a private capacity;
Opportunity to work as a Parents Plus Mentor or Supervisor and support other facilitators;
Learning to deliver the Parents Plus programmes in an evidence-based way, which ensures sustained outcomes for families;
A major CPD achievement as a practitioner which is recognised by an extensive range of professional bodies.
Steps to Accreditation
Attend Parents Plus facilitator training for the selected Programme;
Notify Parents Plus and register as being on Accreditation process;
Facilitate at least two Parents Plus groups, following the Parents Plus Quality Protocol, using session protocols, client ratings and evaluations;
Complete the Parents Plus Supervision process, including video reviews of group practice;
Submit a practice portfolio for review by Parents Plus.
See Parents Plus Quality Protocol and Facilitator Accreditation Process for more information.
Parents Plus provides training and support for accredited facilitators to become Parents Plus Supervisors
The role of a Parents Plus supervisor is to:
Support new Parents Plus Facilitators to implement their groups and achieve successful outcomes for the families that they work with;
Provide supervision to facilitators as they deliver their Parents Plus Groups;
Host Parents Plus regional network meetings and local supervision groups;
Support facilitators to progress through the Parents Plus Accreditation process.
In order to apply to be a Parents Plus Supervisor you need to:
Be trained and experienced in running one or more of the Parents Plus Programmes
Be accredited or in the process of accreditation in one or more of the Parents Plus Programmes
Have specific experience in providing professional supervision and training
Provide an indication of how much time you can allocate to your supervisory role
Acting as a Parents Plus Supervisor can be done:
As part of your role within your agency.
In return for a fee from Parents Plus for a designated project.
If you are recruited as a Supervisor, you will be provided with training and supervision from the Parents Plus Training Team and you will become part of a network of Parents Plus Supervisors.
To apply to become a Supervisor, please fill out the application form here and return to eileen@parentsplus.ie
Do Parents Plus offer training in my area?

Parents Plus can provide onsite training in your agency or team which can prove a very cost-effective way of accessing Parents Plus training for your whole team. In addition, Parents Plus can provide tailored support in the roll-out and evaluation of the programmes to ensure effective community wide delivery.
Parents Plus can also co-host a training with an agency, whereby both Parents Plus and an agency recruit professionals to attend training in a local area.
Please contact us directly via admin@parentsplus.ie if you are interested in hosting a training in your agency.

How much does it cost to train a group of colleagues or professionals in my area? 

Onsite training is a very cost-effective way to train professionals in a local area.  We would be delighted to speak with you regarding running onsite training, tailored to the needs of your agency(s) and service users.  Please contact us for details.


What is involved in Onsite training? 

Parents Plus provides a trainer to deliver the selected programme over a course of 2 or 3 days.  Parents Plus will provide training packs for the agreed number of attendees. The host organisation is responsible for providing the attendees, training premises and refreshment for the attendees.
How much does facilitator training cost?


3 Day Facilitator Training €490
The Parents Plus Adolescents Programme, Parents Plus Children's Programme and Parents Plus Early Years Programme are all 3 day trainings.
2 Day Facilitator Training €350
The Parents Plus Parenting When Separated, Working Things Out, Special Needs or Healthy Families are all 2 day trainings.
* Training fee also includes two free supervision sessions in the first year post training.
Facilitator Programme Packs (including DVDs and Manual)
€300 You need at least one programme pack per facilitator pair
Parent Books €1 each

Are there any discounts available?


If you are block booking 5 or more places for your team please call the office on 01 8545185 or email admin@parentsplus.ie to talk to our team about receiving a block-booking discount.
Do Parents Plus offer sponsorship?


Parents Plus offer sponsorship opportunities for a small number of trainings throughout the year.  These are advertised on our website, via our newsletter and on our social media channels. 

Sponsored trainees will receive a discount off their training place and materials.  In return for this discount, Parents Plus and the facilitator enter into a contract whereby the facilitator must provide feedback on the parent groups that they run within the timeframe outlined by Parents Plus.

I have an old Parents Plus manual. Can I still use this?


The original Parents Plus programme materials were updated in late 2016 (Please note only the facilitator manuals and parent books have been updated at this time. The DVDs remain the same).  Older manuals can still be used. However Parents Plus encourages facilitators to avail of a manual swap (€80 + P&P) to update their facilitator manual. These new manuals can be used in conjunction with the new parent booklets.

Please email 

admin@parentsplus.ie

 to organise a manual swap.


How can I purchase books for the parent group that I am planning?

Parent books can be purchased at the time of booking your training or afterwards via the Purchase Materials tab on our Home Page.


I ordered a programme manual but have not received it yet.



Parents Plus do not dispatch materials until payment has been made.  Please check with your finance department that the invoice has been processed.


Do I need to order a programme in order to attend a Parents Plus training?


While we strongly recommend that you have your own programme materials at the training, it is not imperative.  Parents Plus provides 'lend out' manuals in the case of a trainee without a manual to work from.  However, you will require the programme manual in order to run the parent groups in your service.
What training does Parents Plus offer?
Parents Plus offer facilitator training in each of our seven programmes:

The Early Years Programme for parents of children aged 1 to 6.

The Children's Programme for parents of children aged 6 to 11.

The Adolescent's Programme for parents of adolescents aged 11 to 16.

The Working Things Out Programme targeted at adolescents aged 11-16.

The Parenting when Separated Programme targeted at parents who are preparing for, going through or have gone through a separation and divorce.

The Special Needs Programme for parents of adolescents and young people with an Intellectual Disability


The Healthy Families Programme promoting health and well-being in children   
We also provide a range of post-training supports to facilitators and agencies who want to ensure a sustainable and effective delivery of the programmes within their agencies.

Can I train as a Parents Plus facilitator?
The Parents Plus Programmes are designed to be delivered by trained professionals in community and specialist settings.
They can be delivered by a variety of education, mental health and community professionals, including teachers, social workers, speech and language therapists, psychologists, psychiatrists, public health nurses and health visitors or any professionals working in child care, family support or community development.  For more information, please read the full  Parents Plus Licensing Guidelines.
Where is training held?


Training in each of the seven Parents Plus programmes is held twice annually in Dublin. These are classed as "Scheduled Trainings".  They generally take place April – June and October – December.

Outside of these Scheduled Trainings, Parents Plus carry out "Onsite Trainings" throughout the country and abroad at the request of services and agencies.  These trainings are a cost effective way for agencies to train a group of 8+ team members. Occasionally these Onsite Trainings are opened up to the other agencies to attend.  All details can be found on the Programmes page on the Parents Plus website.


How do I find out about when training is taking place?


Please check our

 

training schedule to find out when the next training courses are taking place.  Alternatively 

sign up for our newsletter

at

www.parentsplus.ie

Do I need a co-facilitator?


You should always facilitate your Parents Plus group with another facilitator who has trained in that specific Parents Plus Programme. This is to ensure that you receive 'co-supervision' from your co-facilitator, which is the basis of the Parents Plus Quality Protocol.  If you choose to become accredited in the Parents Plus programme in which you have trained, you will be licensed to facilitate your groups alone.

If it is not possible to facilitate with a colleague trained in your programme, a second option is that you can deliver the programme with a facilitator trained in another Parents Plus Programme. As a minimum standard, you can co-facilitate the group with a professional not yet trained in the Parents Plus Programmes once there is a plan for them to be trained in the future.  Please contact Parents Plus in these situations.

On rare occasions, some facilitators gain permission to deliver a group alone prior to being accredited.  In these situations you need to make special arrangements for weekly supervision within your agency and you need to agree this in advance with Parents Plus.  Please see the Parents Plus Quality Protocol and Facilitator Accreditation Process' document for more information.

Parents Plus is not in the position to match facilitators from our database.  It is the responsibility of the facilitator to ensure that they have a co-facilitator to run groups with.


Can I charge parents to attend parent groups?


Facilitators are encouraged to run their parent groups free of charge or at a low cost through their agencies.  Parents can be asked to contribute a small fee to cover the cost of books and refreshments.

If you wish to deliver groups privately and charge professional rates, you must first become an Accredited Parents Plus Facilitator.

For more information,

 please read the full  Parents Plus Licensing Guidelines.

 
There are many more resources available to registered faciliators.
Request an account
After you register, your request will be sent to the site administrator for approval.
You will then receive an email with further instructions.
DVD access (Restricted)
Slides (Restricted)
Certs (Restricted)
DVD access (Restricted)
Slides (Restricted)
Certs (Restricted)
DVD access (Restricted)
Slides (Restricted)
Certs (Restricted)
DVD access (Restricted)
Slides (Restricted)
Certs (Restricted)
DVD access (Restricted)
Slides (Restricted)
Certs (Restricted)
DVD access (Restricted)
Slides (Restricted)
Certs (Restricted)
DVD access (Restricted)
Slides (Restricted)
Certs (Restricted)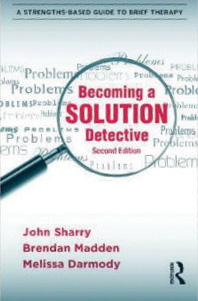 JOHN SHARRY, BRENDAN MADDEN AND MELISSA DARMODY
Encouraging the reader to become a 'solution-detective' and to look for 'clues' to success in their own practice, this is a practical and accessible guide for therapists, counsellors and other professionals interested in making their practice solution- focused and effective in a short time frame.
Drawing on the insights of solution-focused therapy (SFT) and other strengths- based therapies, the book is full of case examples, exercises and role plays, designed to build on your strengths as a practitioner.
Becoming a Solution Detective is ideal for individual study and for use on courses in a wide range of fields including social work, counselling, therapy, psychology and nursing.
The three authors co-founded the Brief Therapy Group in Dublin, which is a psychotherapy, training and consultation service and the leading provider of Brief Therapy training and consultation to professionals in Ireland. Within their practice, the authors have designed basic and advanced training courses in solution-focused therapy as well as the format for a professional supervision and consultation group. This book distills the insights of their training approach into an accessible guide to practice.
Routledge 2012 – 184 pages – www.amazon.co.uk – ISBN 978-0-415-89622-1
John Walter, Co-author, 'Recreating Brief Therapy'
'Novices will love this book for its simplicity and straightforwardness. Experienced people will relish the humor and the helpful teaching guides.'
Chris Iveson, Brief Therapy Practice
'Brilliant … well written … crisp and tothe point.'
Matthew D. Selekman, Partners for Change
'One of the best solution focused practice oriented books on the market.'
Bill O'Hanlon, Founder of Possibility Therapy
'Will help both beginners and advanced students of solution-based therapies
master the approach. The perceptive reader will discover many advanced
concepts presented clearly and simply.'
Ben Furman, Director, Reteaming International
'It's not easy to write a good hands-on book about solution focused brief therapy which is exactly what the authors have managed to do. You will enjoy reading this book very much. It gives you enough ideas about the approach that you can start testing them in your work with clients right away.'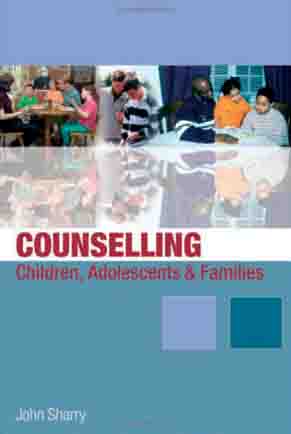 JOHN SHARRY
Counselling Children Adolescents and Families is an excellent textbook for all professionals who are seeking a respectful and effective way of engaging and helping children, adolescents and families. Drawing on the best in recent advances in solution-focused and resilience-oriented models of psychotherapy, the book will outline a collaborative approach to therapeutic work that builds on children and families own strengths and resources and that can establish cooperation in even the most difficult situations.
Divided into three parts, the book first takes the reader in a clear and straight- forward manner through the background and basic principles of the approach, tackling thorny professional issues such as how and when to use diagnosis. Second, the book outlines creative applications such as groupwork with children and parents, using playful and creative activities and using new but highly effective approaches such as video based feedback. The last section, considers how the strengths-based approach applies to 'difficult' contexts such as working with child abuse and suicidal teenagers and children.
Sage Publications 2004 – 179 pages – www.sagepubications.com – ISBN 9780761949510
V. Draper
'The case studies are illuminating. The ideas and theories are set out in clear, readable progression. It should change practice. Wonderful.'
Nurturing Potential
'This is a valuable book, worth attention in every child and family service …
I recommend this book to anyone who lives or works with families, children
or teenagers.'
Tim Looker, Steinkopff Springer Darmstadt
'Sharry has produced a rich resource from which the reader can consider the ideas, reflect upon them and integrate them into his/her own practice.'
Chris Iveson, Brief Therapy Practice London
John Sharry's book is a jewel in the solution focused literature. It is clearly and engagingly written, draws on a host of ideas from different therapeutic approaches and is packed with practical examples. There is no better book on strengths-based therapy with children and adolescents. Every team should have one.'
Scott Miller, ISTC Chicago, USA
'In a clear, engaging, and step-by-step fashion, John Sharry describes how therapists, social workers, and helpers of all stripes, can tap into the many assets and abilities lying in wait in today's youth. I highly recommend it.'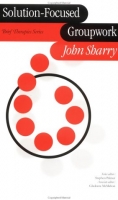 JOHN SHARRY
professionals who use groups to help people. For those new to the approach it provides a clear, step-by-step introduction, while for more experienced practitioners it presents ideas and techniques which can be readily integrated into existing practice.
John Sharry examines the therapeutic factors which characterize solution focused groupwork and which contribute to its effectiveness. Using carefully selected case studies and examples, he takes the reader through the various stages in the therapeutic process, from getting started to the final session. The book also provides creative exercises for use in practice and guidance on evaluating the outcomes of group work and how to tackle difficulties which arise.
Solution-Focused Groupwork is ideal for individual study and for use on courses in a wide range of fields, including counselling, social work, therapy and nursing.
Sage Publications 2008 – 202 pages – www.sagepub.co.uk – ISBN 978-1412929851
Prof. Robert Blundo, Ph.D., University of North Carolina
'A persuasive alternative to traditional methods of group practice…
obviously written from a real practitioner who understands the process and elements of group work.'
John Lande
'Embraces the much deeper philosophical aspects of solution focused work that are relevant for every human group. … Sharry writes extremely well and skillfully interweaves theory and practice.'
David Jaques, Author of Learning in Groups
'Enlightening, clearly written, and helpfully presented … The book echoes
what Solution-Focused Groupwork is all about – being practical and
optimistic about human potential.'
Barbara Wilson, Family Mediation in Practice
'This slim tautly written volume disguises an enormous practical treasure store to help group facilitators. Solution Focused Groupwork should be essential reading.'
Chris Iveson, Brief Therapy Practice London
'John Sharry has fluency with language that allows complexity to sit side by side with clarity and ideas to flow across the page. This is a book that must be read by
anyone interested in front line developments in solution-focused therapy.'
Scott D. Miller, Co-founder, Institute for the Study of Therapeutic Change, Chicago, USA
'Solution-Focused Groupwork picks up where Irvin Yalom's classic 'Theory and Practice of Group Psychotherapy' left off. In a thoughtful, step-by-step, and easy-to- read fashion, John Sharry integrates the best from established principles of group therapy with recent advances in brief, strength-based, resiliency-oriented treatment approaches. A must read for practitioners working with groups.'
Dr. Alastair J. MacDonald, President European Brief Therapy Association
'A major contribution to the literature on groupwork.'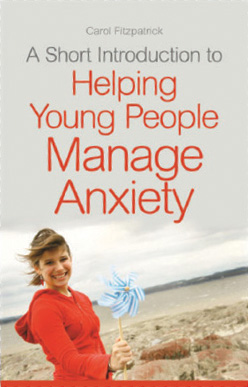 CAROL FITZPATRICK
This book tells you everything you need to know about anxiety, its many causes and types, and associated disorders such as depression and self-harm. Case-studies help to show the effect of anxiety in real-life situations, and also provide useful tips and advice to help young people manage their symptoms.
Jessica Kingsley Publishers 2015 – 112 pages – www.jkp.com – ISBN: 978-1-84905-557-4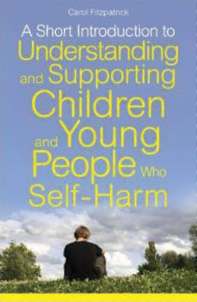 CAROL FITZPATRICK
'Found this book really useful. Good selection of case studies and practical suggestions. Parents and carers, as well as front line practitioners will find this book a starting point to understand self harm'. Parent
An easy-to-read guide for parents, carers and professionals working with young people showing signs of self-harm and suicidal behaviours, which gives advice on how to identify problems and how to support the young person.
Jessica Kingsley Publishers 2012 – 112 pages – www.jkp.com – ISBN: 978-0-85700-584-7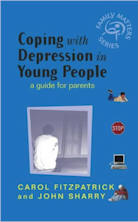 CAROL FITZPATRICK AND JOHN SHARRY
'Clearly and authoritatively written by two experts in the area, clinician's who work with depressed children and adolescents should routinely recommend that parents read this excellent book'. Professor Alan Carr, University College Dublin
'…a guide for parents, a book long overdue and one which will be of enormous help.' www.familyonwards.com
'The strength of the book lies in it accessible style and numerous practical suggestions.' Child and Adolescent Mental Health Depression in young people is a difficult problem to deal with. Parents often feel at a loss as to how to help and fear greatly what might happen. This book is written in response to parents' requests for reading material to help them understand their young person who is suffering from depression, to show them what they can do to help, and to enable them and all the family survive and come through what can be a very difficult situation. The book deals with the special concerns parents often have, including concerns about self-harm, alcohol and drug overuse and suicide, explaining when and how to get professional help and the treatment approaches used.
Wiley Publications 2004 – 158 pages – www.wiley.co.uk – ISBN-13: 978-0470857557
Child and Adolescent Mental Health
'The strength of the book lies in it accessible style and numerous practical suggestions.'
www.familyonwards.com
'…a guide for parents, a book long overdue and one which will be of enormous help.'
Professor Alan Carr, University College Dublin
'Clearly and authoritatively written by two experts in the area, clinician's who work with depressed children and adolescents should routinely recommend that parents read this excellent book'.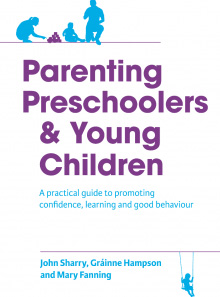 JOHN SHARRY, GRAINNE HAMPSON AND MARY FANNING
Light of touch, inviting to the (surely busy and distracted) readers, and decorated with amusing cartoons
that add ideas… A good gift for young parents facing the challenge of those vital years'. Books Ireland
In 'Parenting Preschoolers and Young Children' you will find practical advice on how to deal with the very real difficulties of caring for young children. As well as offering helpful tips on how to stimulate a child intellectually in terms of improved concentration and language development, it also offers sound advice on handling behavioural problems like temper tantrums and co-operation issues. Emphasising an approach to parenthood that praises rather than chides 'Parenting Preschoolers and Young Children' is an accessible and indispensable guide for those dealing with young children.
Veritas Publications 2005 – 128 pages – www.veritasbooksonline.com/john-sharry.html – ISBN 978 1853909153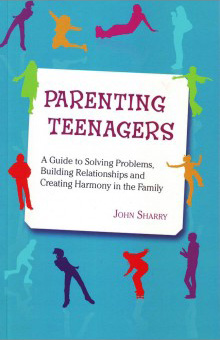 JOHN SHARRY
'One major strength of JohnSharry's approach is how he demonstrates how parents can reframe potential conflict situations as opportunities for closer involvement and richer family interactions. A very readable, common-sense user friendly booklet'. The Irish Psychologist
This book describes a balanced approach to parenting, setting out a step-by-step guide that shows how you can stay supportively involved in your teenager's life while also being firm. It emphasises a positive approach that builds on your strengths as a parent, helping you not only to solve discipline problems and reduce conflict, but also to have a more satisfying and enjoyable relationship with your teenagers.
Veritas Publications 2012 – 175 pages – www.veritasbooksonline.com/john-sharry.html – ISBN 1 85390 557 7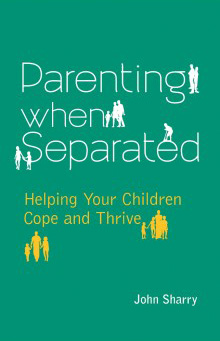 JOHN SHARRY
'A guide for parents to help them and their children to cope better with separation and divorce'
Although children can suffer greatly during parental conflict, separation or divorce, there are positive things that parents can do that will reduce the neagtive impact and help your children cope. This booklet is based on research into what makes a difference during a separation and offers practical advice on how you can help yourself and your children.
Veritas Publications 2014 – 128 pages – www.veritasbooksonline.com/john-sharry.html – ISBN 1847305733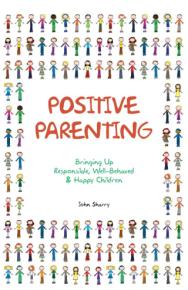 JOHN SHARRY
'This book is excellent, and will inspire both parents who are in trouble and also families who are getting along fine but know there are areas they could improve.' Sunday World 'An indispensible guide'. The Irish Times
'A good guide for this tricky stage'. The Sun
'Positive Parenting' aims to help parents raise emotionally secure, happy children who reach their full potential at home and at school. Targeted at parents of primary school age children, 'Positive Parenting' provides a step-by-step guide to solving behaviour and other childhood problems including sibling rivalry, homework hassles, serious tantrums, bullying, poor self-esteem and anxiety.
Veritas Publications 2008 – 178 pages – www.veritasbooksonline.com/john-sharry.html – ISBN 9781847300775
Sunday World
'This book is excellent, and will inspire both parents who are in trouble and also families who are getting along fine but know there are areas they could improve.'