The Parents Plus Programmes are robustly evidence-based and currently over 25 studies conducted in clinical, community and disability settings attest to their effectiveness for families with children and adolescents of all ages, dealing with a variety of challenges and issues.
In 2016, Professor of Clinical Psychology, Alan Carr, University College Dublin, presented a meta-analysis of the Parents Plus evidence base. This analysis highlighted the significant benefit for families who attend the Parents Plus courses, both post-treatment and at follow-up. 
The study was published in the International Journal Family Process. (Carr, Hartnett, Brosnan & Sharry, 2016).
In summary, the research shows:
1. The Parents Plus Programmes have a significant impact on:
reducing child emotion/ behaviour problems.
reducing parent stress.
increasing parent satisfaction.
increasing therapeutic goal achievement. (Graph 1 below)
2. Most significantly, the gains made by families are maintained  3 to 10 months after completing the programmes and in some instances the benefits have increased. (Graph 2 below)
3. With an average effect size of .6 across all the studies, the effectiveness of the Parents Plus Programmes compares favourably with other international parent training programmes with large evidence bases. (Graph 3 below)
4. The results have been observed with over 1000 families in specialist settings, such as mental health and disability services, as well as in preventative community settings, such as schools and family centres.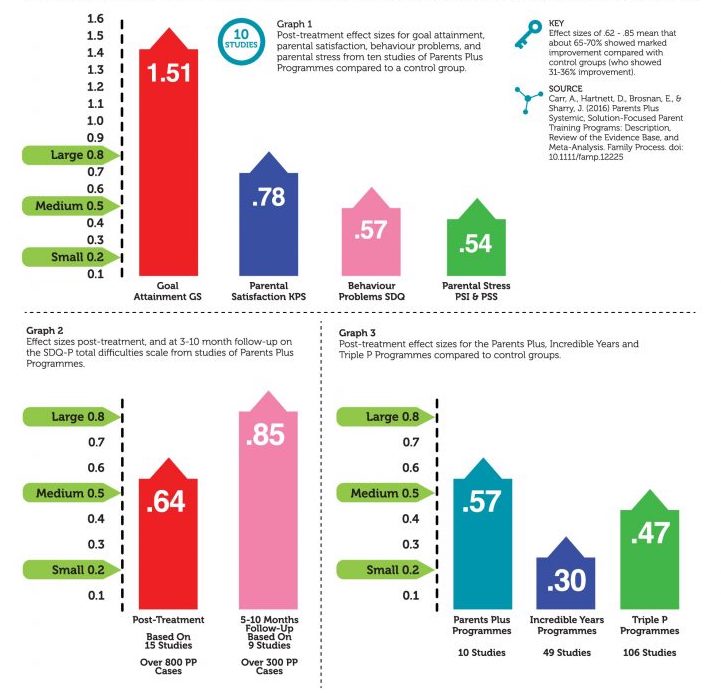 Read more about this study at: A Meta Analysis of the Parents Plus Evidence Base (Presentation by Alan Carr) and Full Meta-Analysis Paper.
The Parents Plus Programmes follow international best-practice guidelines as described by the National Institute for Clinical Excellence in the UK and have been independently reviewed by the Early Intervention Foundation (EIF), NHS Education for Scotland (NES) and the National Parenting Academy (NPA) and were awarded top ratings. For example, the NPA awarded the Parents Plus Children's Programme the highest category rating for the theoretical underpinnings of its approach and its comprehensive programme materials and the second highest category for its facilitator training protocols and evidence base. Significantly, they noted the evidence for the programme as robust and equivalent to the gold standard Randomised Control Trial (RCT).

You can download the National Parenting Academy report for more information.
You can change the future for the children and families that you work with
 to discuss how you can achieve
the best outcomes in your service