About Parents Plus Research from Parents Plus on Vimeo.
The Parents Plus Programmes are evidence-based interventions and currently over 20 studies conducted in clinical, community and disability settings attest to their effectiveness for families with children and adolescents of all ages, and for separated families. The programmes follow international best-practice guidelines as described by the National Institute for Clinical Excellence in the UK, and they are specifically listed as evidence-based programmes by the Department of Education (UK) – www.education.gov.uk.
In December 2015, Prof. Alan Carr, University College Dublin, presented a meta-analysis of the Parents Plus evidence base. This analysis highlighted the significant benefit for families who attend the Parents Plus courses, both post-treatment and importantly, at follow-up. The study (Carr, Hartnett, Brosnan & Sharry, 2016) was published in  the international Journal Family Process. Read more here: A Meta Analysis of the Parents Plus Evidence Base (Presentation by Alan Carr) and here: Full Meta-Analysis Paper, or see the summary below. 
There's also a video abstract summarising this paper which you can view here.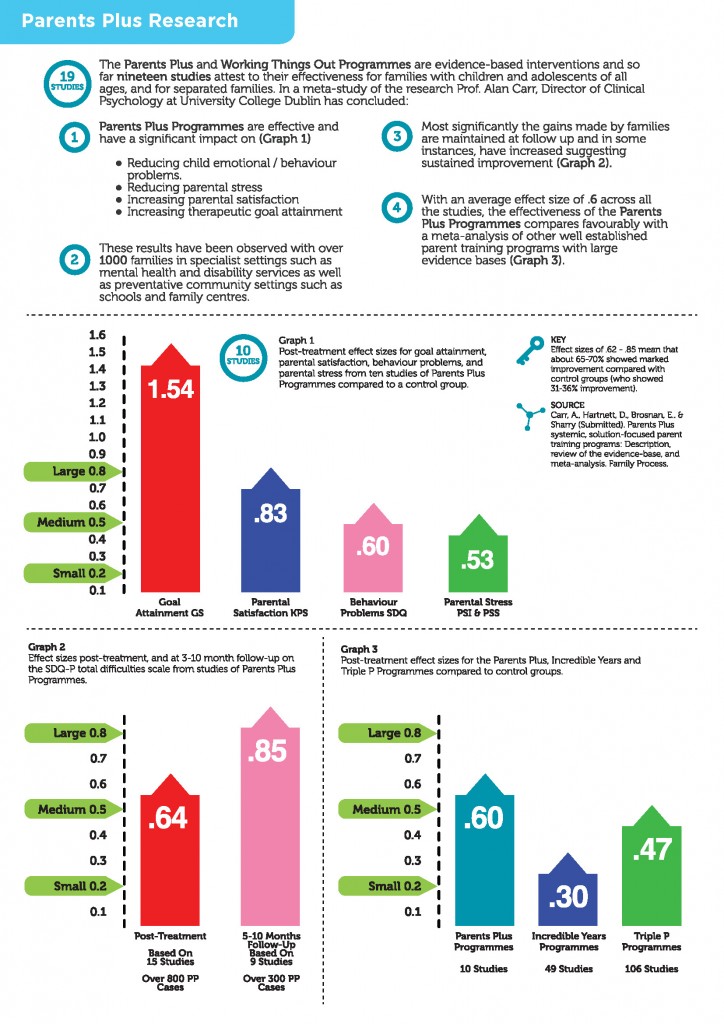 In addition, the Parents Plus Programmes have been independently evaluated by National Parenting Academy in the UK and were awarded top ratings. Specifically, the Parents Plus Children's Programme was awarded the highest category rating for the theoretical underpinnings of its approach and its comprehensive programme materials and the second highest category for its facilitator training protocols and evidence base. Significantly, the Academy noted the evidence for the programme as robust and equivalent to the gold standard Randomised Control Trial (RCT). Download the Academy report for more information.