We are offering free training places to professionals providing services to adolescents and young adults with an intellectual disability in the Republic of Ireland. 
Successful applicants will receive free training and supervision in the Parents Plus Special Needs Programme (PPSN), which is the first evidence-based parenting and educational programme in the world for parents of young people with an Intellectual Disability.  
In 2019/2020, in a large Randomised Controlled Trial with Trinity College Dublin Psychology Department, parents attending the Parents Plus Special Needs Programme reported significant improvements in: 
Parenting practices 
Problem behaviours 
Parental satisfaction 
Self-efficacy, and 
Goal attainment  
The training will take place online, via Zoom, on the 18th, 25th and 27th of August, 9a.m. – 1.30p.m.
Apply for sponsorship 
If you are a professional working in the Republic of Ireland with children, adolescents or young adults with an intellectual disability, or are running a Parent Led Support group for families, and would like to apply for a funded place on the Parents Plus Special Needs professional training, please complete the following Application Form and Contract of Agreement and submit to john@parentsplus.ie before Friday 30th of July
Included in the sponsorship opportunity 
3 x ½ day modules
Facilitator Manual and first set of parent books 
Post training implementation support 
Supervision  
Closing dates for applications for sponsorship is Friday 30th of July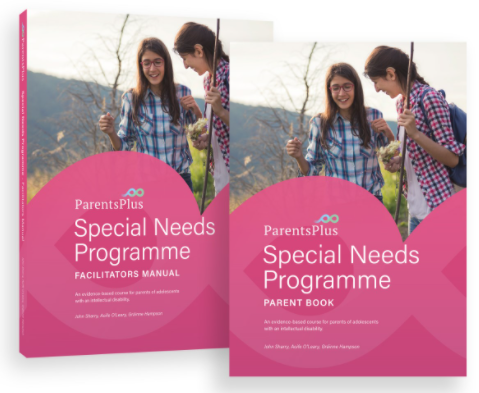 Please feel free to pass on this sponsorship opportunity to your colleagues also.  Further information on PPSN, its impact for young people, parents and families, and the Randomised Controlled Trial results are available here  
For any queries in relation to this sponsorship opportunity, contact john@parentsplus.ie