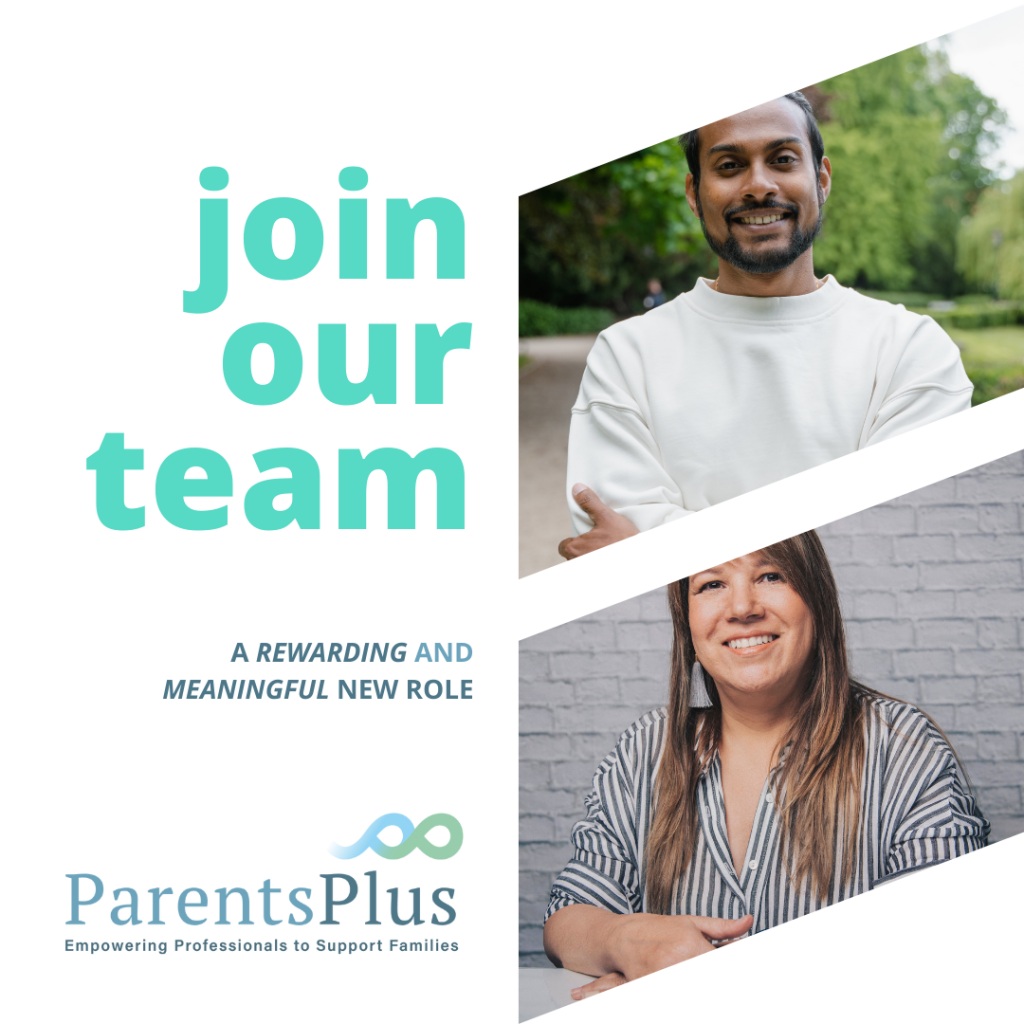 Parents Plus is a social enterprise and charity who are driven by our mission to improve the well-being of children, young people, and parents, and to strengthen families, by empowering professionals to deliver our evidence-based parenting and mental health programmes in their services.
Our research, development, training and supervision enables community, health, education and disability services, in Ireland and internationally, to maximise their impact for families. 
In the last 10 years alone, Parents Plus has supported over 1,000 organisations to create sustainable change in their service delivery, strengthening over 100,000 families.
Parents Plus is at a pivotal stage in our growth, developing world class solutions for services and families.  We want to focus now on increasing our impact in Ireland to respond to the growing needs of families and services. We also want to scale our current work in the U.K. and internationally to further strengthen families.
To assist us in this growth, and to support the delivery of our Strategic Plan 2022-2025, we are seeking applications from suitable candidates for the position of part-time communications officer, working from our head office in Dublin, and reporting to our Chief Executive Officer.  As our organisation grows, and this role delivers on increasing impact of our work, we anticipate that this position has the potential to develop into the post of Communications Manager. 
Key Responsibilities will include
Executing the PR and Communications strategies to deliver on ambitious targets, supporting the continued growth in impact of Parents Plus programmes.
Increasing sales and reach of each Parents Plus programme with tailored content within relevant sectors
Increasing awareness of Parents Plus to key stakeholders both at grass roots and government level
Increasing awareness of Parents Plus work such as new programme developments, research findings, partnerships, etc., with key stakeholders
Engaging existing audiences and increasing audience numbers within key sectors in relation to each programme
Building strong relationships with key stakeholders including services and the media.
Development and delivery of timely and high-quality communications across multiple channels. This includes management of digital platforms, ensuring the right channels are used to target each of our specific audiences.  Maintaining up to date, informative and appealing multimedia content.  Channels include website, mailchimp, Twitter, Facebook, Instagram and LinkedIn
Writing content such as Annual reports, newsletters, social media posts, brochures, etc., ensuring they are produced to a high standard and consistent with brand guidelines.
Preparing and issuing press releases and blog posts
Preparing promo materials and assisting with conferences and events 
Attending networking events
Other duties may be assigned from time to time by the CEO or Board of Parents Plus.
Experience and Skills 
1. A degree, diploma or equivalent in Communication, PR or Marketing, or at least 3 years industry experience, with a proven track record of achievement. 
2. A creative and strategic thinker with at least three years' experience in a PR, Communications, Marketing, or similar role. 
Required Skills 
Experience in devising, implementing, monitoring and evaluating successful Communications or Marketing Campaigns. 
A strong ability to effectively define and convey Parents Plus key messages. 
Excellent communication skills (both written and verbal), and excellent organisational and interpersonal skills, with an ability to work under pressure and meet deadlines. 
Agility in moving successfully between traditional media and social media. 
Excellent project and tasks management skills 
Ability to create and post website content 
Experience in short video production from filming to online delivery
Experience in production of graphics for web use 
IT, Social Media and data literate with experience in Mailchimp, Facebook advertising, Adobe Illustrator/Canva (or similar) 
Excellent proofing skills
Desirable Skills
An understanding of and ability to write SEO-rich online content for Parents Plus website
Experience in charity or not-for-profit organisation
Our Ideal Candidate
The successful candidate will have a passion for communications, a positive, can-do attitude, and have an ability to develop and maintain strong relationships with multiple internal and external stakeholders.  
They will be proactive, responsible, and able to work independently.   They will be able to think strategically and creatively.  They should have excellent digital skills and an openness to learning new skills on the job. 
Conditions
This role will report to the CEO and is a part-time, 25 hour post, across 5 days.
Based out of our Dublin 7 Head Office with option for hybrid working.
Requires work outside of regular office hours a few times a year (early morning meetings with advanced notice).
6 months' probation.
Candidates must have capacity/permission to reside and work in the EU.
Salary is €45,000 pro rata, based on 37 hour week, depending on experience. 27 days annual leave pro rata.
To apply
To apply for this role, please send your C.V. and a cover letter to admin@parentsplus.ie
Closing date for applications is Monday 18th of July 2022 at 5p.m.
Interviews will be held on morning of Tuesday 2nd of August 2022, via Zoom
Successful candidate must be able to commence post in early September
To learn more about Parents Plus work visit https://www.parentsplus.ie/