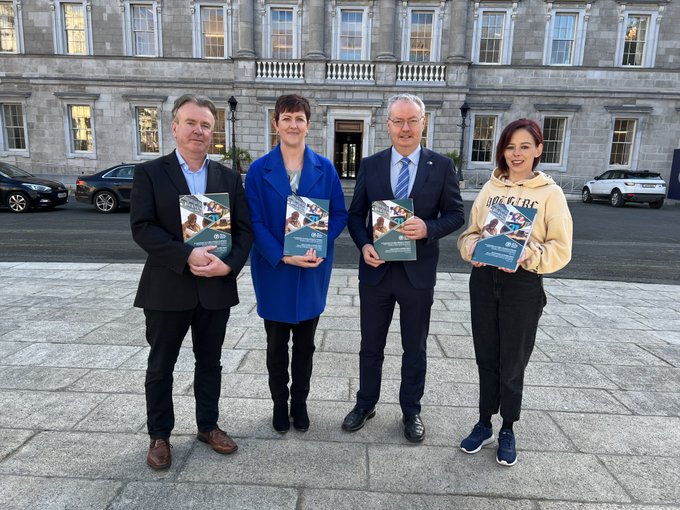 Parents Plus welcomes this important report published by the Joint Committee on Disability Matters today.
The report shows access to mainstream health services is severely impacted for people with disabilities due to inaccessible services, lack of expertise, therapies, & individualised services as well as a significant cost of disability & a lack of disability awareness training.
It goes on to say Disability Services have a broken structure that impacts the transformation of a service, is based on a medical approach to disability, sustains segregation through a lack of mainstreaming early intervention, & ultimately impacts the rights of people with disabilities. The report calls on the Government to undertake crisis talks on national measures to support the transformation of Disability Services to ensure the delivery of early intervention across health services for people with disabilities. The report makes a number of recommendations, under the following headings – rights-based disability services provision, community-based health services and support, children's disability services and future innovation.
Here are the key points from the report:
The Joint Committee on Disability Matters in Ireland has called on the government to hold crisis talks to discuss national measures to support the transformation of disability services.
The committee's report on aligning disability services with the United Nations Convention on the Rights of Persons with Disabilities highlights the need for a clear implementation plan and sustainable funding for disability services.
The report recommends that the government establish a cross-departmental task force to oversee the implementation of the Convention, and that disability service providers be involved in the development of policies and strategies.
The committee also calls for the establishment of a Disability Ombudsman to ensure that the rights of persons with disabilities are upheld.
According to the press release, the report is based on extensive consultation with disability service users, advocates, and providers, as well as international experts in disability rights.
The committee's Chair, Senator John Dolan, states that "the time for incremental change has passed," and that "we need a once-in-a-generation shift in how we support and empower people with disabilities in Ireland."
You can also watch the Live Launch of the report below –
Earlier this month our CEO, Cherie Tyner and Ciara Ni Raghallaigh, Special Needs Programme Co-Ordinator had the honour of presenting to the Oireachtas Joint Committee on Disability Matters.
Cherie and Ciara were supported by Wayne McSweeney, parent and Niamh Kerrigan, parent and Programme Co-Facilitator as all four spoke to the committee about the benefits and impact of our Suite of Professional Programmes in supporting parents and families across the community, education, health and disability sectors and this allowed us to speak to the committee about our first in the world Special Needs Programme and the inequitable access to evidence-based parenting interventions for families raising a child with a disability.
Read the Parents Plus Charity Opening Statement by CEO Cherie Tyner to The Joint Committee on Disability Matters Committee.
Below is a list of the Committee Membership
Deputies
Michael Moynihan – Chair
Senators