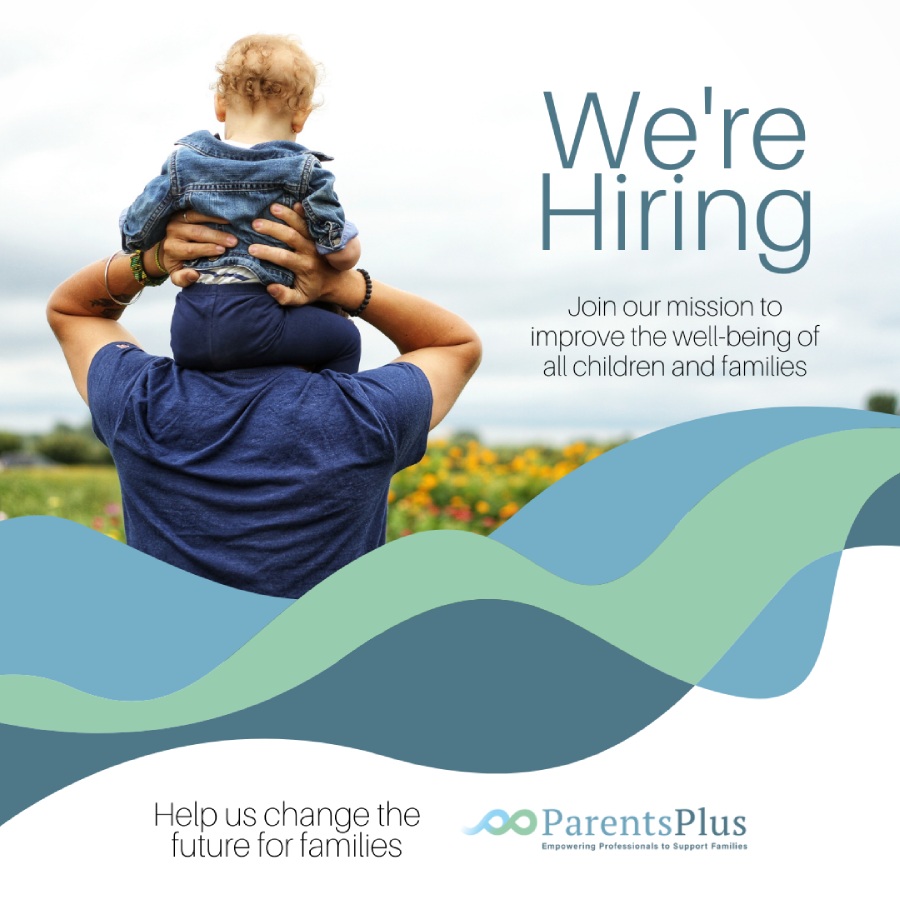 We'd love to hear from suitable candidates for the position of Office Manager with Parents Plus.
At Parents Plus we are driven by our mission to improve the well-being of children, young people, and parents, and to strengthen families, by empowering professionals to deliver our evidence-based parenting and mental health programmes in their services.
Our research, development, training and supervision enables community, health, education and disability services, in Ireland and internationally, to maximise their impact for families. 
In the last 10 years alone, Parents Plus has supported over 1,000 organisations to create sustainable change in their service delivery, strengthening over 100,000 families.
Our vision is to create a world where families have access to proven and tailored parenting and mental health tools from the services they turn to in their communities, early on in their journey, improving their outcomes and preventing difficulties arising.
To this end we are seeking applications from suitable candidates who want to join our team in delivering on our vision and mission.  
Office Manager Job Description Details:
Supporting and assisting the CEO in the running of the charity
Ensuring the smooth running of the office on a day-to-day basis
Providing comprehensive administrative, logistical and technical support to the Chief Executive Officer, Board of Directors and Parents Plus Charity
Customer Service Sales and Sales Function
Managing incoming calls and answering queries about Parents Plus trainings and supervision for professionals to fit their service needs.
Working with Programme Manager and Sales to ensure enquiries for training professional agencies are followed up on
Updating CRM database
Management of admin email account
Finance Function
Amending customer invoices
Credit control
Post-Training Support Function
Providing administration support to the training team
Updating campaigns on Salesforce
Approving new users on the website
Supporting trained professionals to access resource section of website
Drafting and issuing attendance certificates
Undertaking of such additional duties and responsibilities as may be assigned from time to time
We are looking for someone with the following skills and experience:
Previous experience in sales administration, or a similar role.
Advanced administrative and organisational skills
Exceptional interpersonal and customer service skills.
Experience with industry software such as Salesforce CRM or similar, as well as MS Office.
Proficiency with word processing and spreadsheet software.
Excellent written and verbal communication skills.
Team player with a positive attitude 
Responsible, ability to work independently, manage multiple tasks, prioritise and meet deadlines
Has an appreciation of the work and mission of the Parents Plus Charity with a desire to learn and develop within the organisation
Conditions
This role will report to the CEO and is a part-time, 25 hour post, across 5 days.
Based in the Mater Hospital, Eccles Street, Dublin 7, one day per week with option for hybrid working on remaining four days per week.
Requires work outside of regular office hours a few times a year (early morning meetings with advanced notice).
6 months' probation.
Candidates must have capacity/permission to reside and work in the EU.
Salary range is €25,000 to €37,408 pro rata, based on 37 hour week, depending on experience. 27 days annual leave pro rata.
To apply
To apply for this role, please complete and send the attached application form and a covering letter to admin@parentsplus.ie
Closing date for applications is Monday 10th of October 2022 at 5p.m.
Interviews will be held on Monday 17th of October 2022
The successful candidate must be available to commence in this post in November 2022
To learn more about Parents Plus work visit https://www.parentsplus.ie/