In order to recognise the many facilitators and agencies who continue to deliver the Parent Plus programmes in a sustained quality way, Parents Plus are identifying a number of 'champion' facilitators, who will be eligible for extra support and supervision, as well as reduced cost training and programme materials.
Details about how to apply to become a Champion Facilitator are below.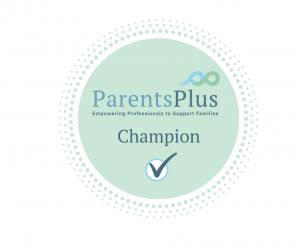 Benefits of becoming a Parents Plus Champion
Receive extra support and supervision from Parents Plus Trainers to deliver your services to families.
Access to lower cost programme booklets, supervision and additional training.
Be eligible to apply for a discount on Parents Plus training for colleagues in your agency (who are going to co-facilitate groups).
Be recognised as delivering a quality service in your community.
Receive a special certificate from Parents Plus to recognise your champion status for the year you receive it.
Discounts for Parents Plus Champions
1 free supervision session annually
25 % discount on Parent booklets
25% discount on additional Parents Plus training
25% discount on facilitator training for colleagues in your agency who can act as co-facilitators
Discounts are available for the duration of champion status (e.g. 1/1/2019 – 31/12/2019)
Parents Plus reserve the right to vary discount rates at any point.
Criteria for becoming a Parents Plus champion
To become a champion facilitator you need to be:
Delivering one of the Parents Plus programmes at least two times a year.
Following the Parents Plus Quality Protocol as you deliver the programmes.
Be an accredited facilitator or be working towards accreditation.
Have run a Parents Plus programme at least twice in the preceding 18 months and have plans to run one twice in the next 18 months.
Be prepared to return to Parents Plus audit data on groups run (e.g. anonymised parent course review forms at the end of each group).
Have the full support of management in your agency re: becoming a Parents Plus Champion Facilitator.
Be prepared for you and your agency to be identified as a Parents Plus Champion on the Parents Plus website and within our social media communications.
Other Information
Parents Plus invite joint applications from co-facilitators in an agency delivering groups together, though individual applications will be considered also.
Champion status is awarded on a yearly basis and it can be renewed annually, once the facilitator(s) continues to meet the criteria above.
You are eligible to apply if you are working within an agency that has open referral for families (e.g. advertised to the public) and within specialist agencies with internal referral only (e.g. CAMHS and disability settings).
Application Process
To apply to become a Champion Facilitator 2019 please complete the short application form HERE and email it to siobhan@parentsplus.ie
The closing date for applications for the coming year is Thursday, 30th January 2019.