As a professional who works with parents and families, you know that separation and divorce can be one of the most challenging experiences a family can face. During this time, parents may feel overwhelmed, confused, and unsure how to support their children through this transition.
At Parents Plus, we understand the unique challenges of separation, and we are committed to supporting parents during this difficult time. That's why we developed the Parenting When Separated Programme – a comprehensive training programme designed to equip professionals with the skills and knowledge needed to support parents through separation.
What is the Parenting When Separated Programme?
The Parenting When Separated Programme is a 6-week group-based parent training programme that provides parents with the tools they need to navigate separation and divorce. The programme is grounded in evidence-based principles and is designed to be practical, accessible, and supportive.
What does the Parenting When Separated Programme Training for professionals involve?
Parents Plus provides a 3 Module (4.5 hr per module) training to professionals who want to use the programme with the parents they support. Practitioners will
Become proficient in the delivery of the programme content
Develop their practice skills in implementing the Strengths-Based approach underpinning the programme delivery and the Solution Focussed Group facilitation model
Gain a knowledge of the evidence base and how to gather their own practice-based evidence using the Parents Plus Quality Protocol including Goal Setting with parents pre-programme, session feedback from participants, session planning and review, monitoring overall programme impact
As part of your training package, you will also receive two post-training Supervision/Coaching sessions from a Parents Plus Supervisor to help you to get going with the programme and further develop your skills around group facilitation and programme delivery.

Who is the Programme For?
The Parenting When Separated training is designed for professionals who work with parents and families, including social workers, psychologists, family support workers, counsellors, therapists and other family practitioners. The programme is also suitable for legal professionals who work with families going through the separation process.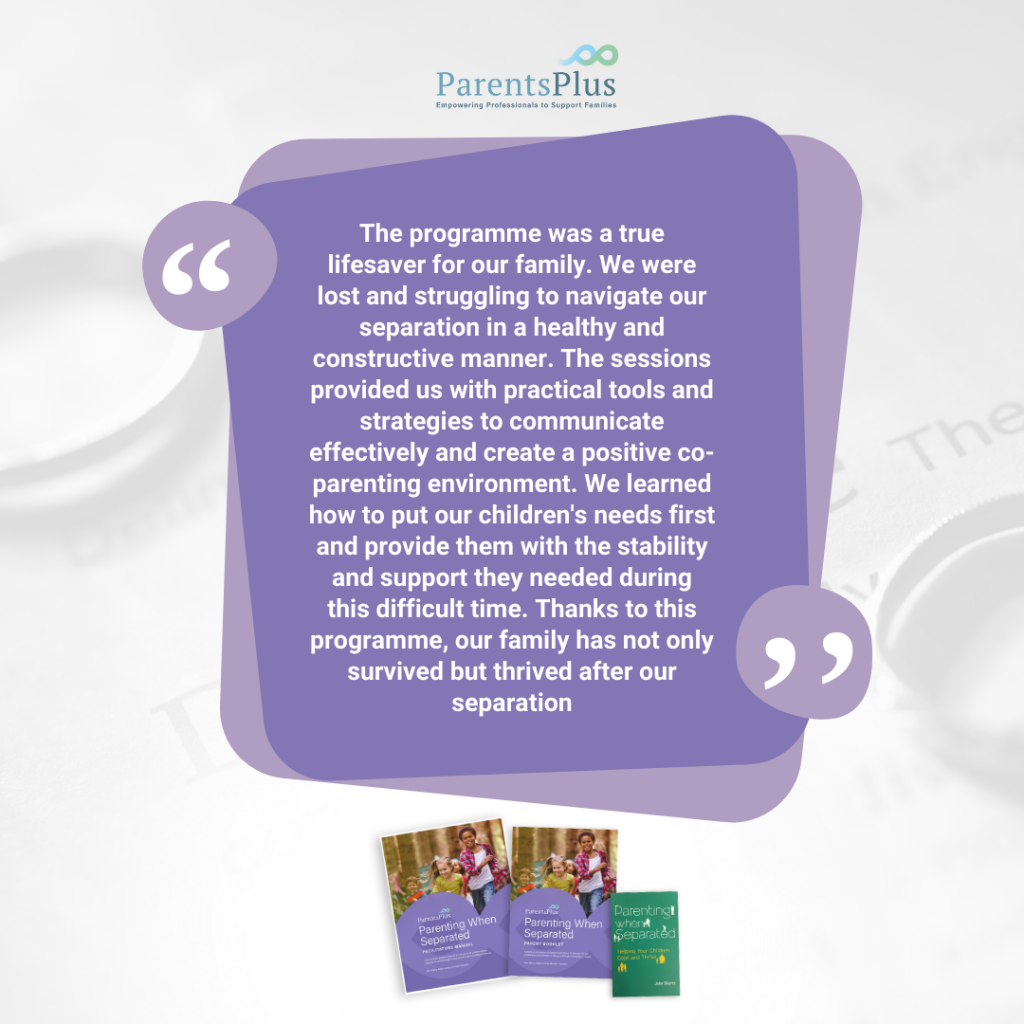 For more information contact Impact Lead for Parents Plus Vicki Byrne at vicki@parentsplus.ie or +353858705772
If you are a parent and are seeking support then please visit our tips and information page via the button below –