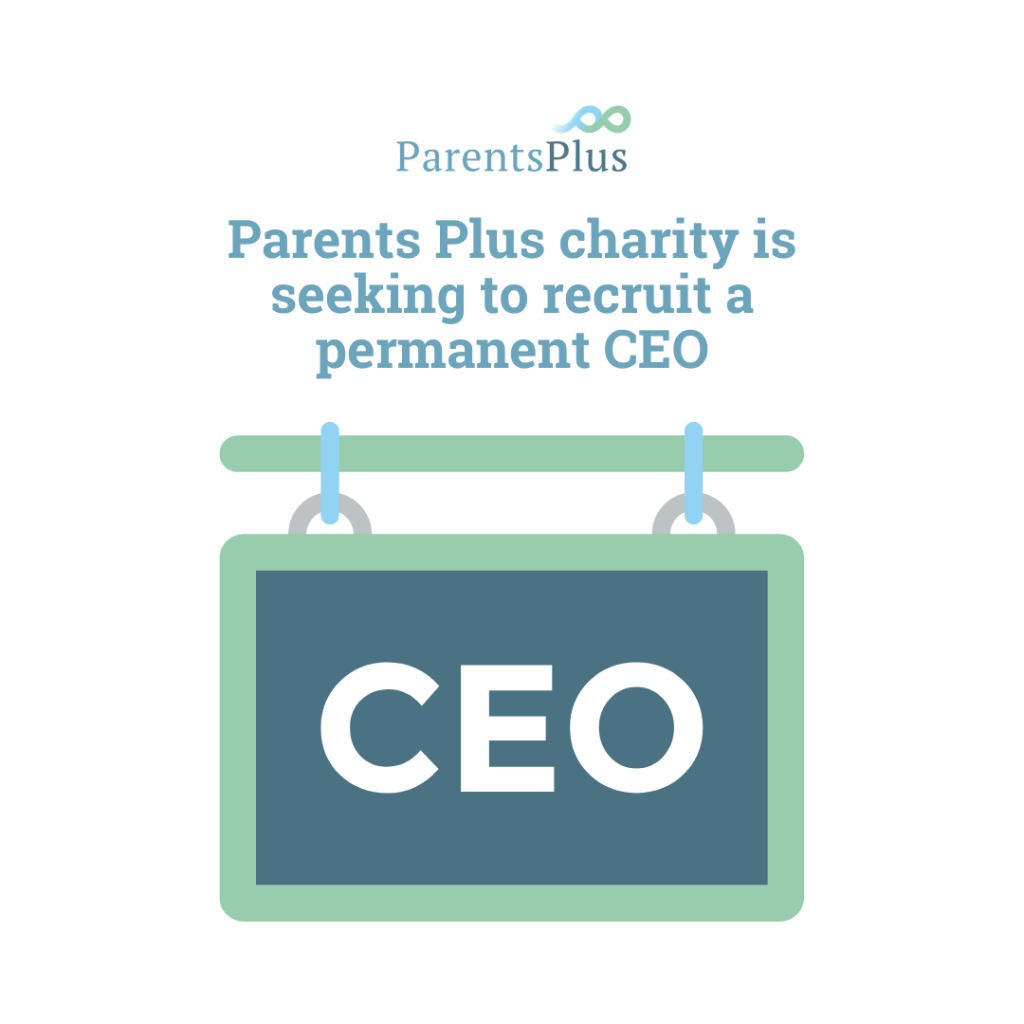 Parents Plus charity is seeking to recruit a permanent Chief Executive Officer to lead the organisation, drive its strategic plan and ensure effective delivery of its mission.

Title: Parents Plus Chief Executive Officer
Location: Full time post based in the Parents Plus Charity Office, The Mater Hospital, Dublin 7

About Parents Plus
Parents Plus charity are leaders in developing, implementing, evaluating and disseminating evidence-based interventions for services supporting families and children. Over the past 25 years, our charity has been working closely with interdisciplinary teams across the community, mental health, disability, and education sectors, to build their capacity and skills to improve outcomes for families from the early years to adulthood.
Our focus is on researching and developing a suite of evidence-based and affordable programmes for services, and training and supervising these teams to improve outcomes for children, young people and parents in their communities. All profits from traded income generated from the sale of our suite of programme training, materials and supervision is re-invested in
Developing new evidence-based programmes to respond to the evolving needs of families, and
Sponsoring training, supervision and outcome evaluation of services with limited budgets, who work with high-need families.

Parents Plus charity consistently demonstrates innovative practice as each intervention has been developed with services and families, for services and families. In the last 10 years alone,
Parents Plus has empowered over 1,000 organisations, in Ireland and internationally, to improve outcomes for over 100,000 families.
Founded in 1995 by Child and Adolescent Consultant Psychiatrist Professor Carol Fitzpatrick and Principal Social Worker Dr John Sharry, and established as a charity in 2001, our collaborative practice, evidence based training and supervision of public and voluntary sector teams ensures we are uniquely placed to build capacity of services to sustainably deliver proven interventions tailored to the needs of local communities.

Position Profile: Chief Executive Officer
Directly Reports to Parents Plus Board of Directors
About the Role – Parents Plus is seeking to appoint a dynamic Chief Executive Officer who will drive the charity's ambitious Strategic Plan 2022 – 2025. In partnership with the Board of Directors, the CEO will advance delivery of the key strategic objectives, growth and impact set out, as well as develop our future strategic direction. They will lead a dedicated and motivated team of experts to build on our success and drive forward the next phase of the charity's journey.
The CEO will have responsibility for commercial, operational, governance and strategic performance across our key areas of work within multiple sectors, expanding the impact of our existing portfolio of professional programme packages, driving revenue growth and by virtue increased impact, managing decisions on reinvestment of profits in research and development, as well as our sponsorship programme, to widen further our impact.
The CEO will ensure that the organisation's structure, team, processes and finances, as well as exceptional research and service standards, meet and exceed the strategic objectives to fulfill the organisation's mission, vision, and values.

The CEO must have an adept ability to think strategically and communicate clearly and concisely. They must also have a solid understanding of and be highly competent in articulating the impact of evidence-based programmes, have a detailed knowledge of each of the sectors in which we operate and the key issues affecting them, the social enterprise business model, and working in partnership with a board of directors. They will also have a passion for Parents Plus mission, be motivated by an absolute commitment to build the capacity of services to improve outcomes for children and families, and have a successful management track record in both the social enterprise and commercial sectors, generating income and impact, as well as demonstrated acumen in managing change. They must be highly competent in coaching and development of teams, as well as networking for impact, and managing a wide-range of stakeholder initiatives and relationships that include public sector and voluntary services, commissioners, research partners, politicians and investors.

It is essential that the CEO has a complete knowledge and academic background to support understanding of our services, our research and development, and the sectors we support, as well as full understanding of governance requirements, the Charities Regulatory Authority and the legislative and policy frameworks in which the organisation operates.
Closing date for receipt of applications: 5p.m. Friday 19th of May 2023.
Interviews will be held in person: Friday 9th of June 2023.
Second round interviews may take place.

Late applications will not be considered. Shortlisting will apply.

Parents Plus is an equal opportunities employer and welcomes applicants from a diversity of backgrounds.

For further information on Parents Plus charity and our work visit https://www.parentsplus.ie/

Applicants who meet the specific requirements set out above should email your C.V. and covering letter to:
The Chairperson of Parents Plus Board, Dr. Michael Drumm, at mdrumm2001@gmail.com