Parents Plus is hosting a free introductory seminar on the five Parents Plus programmes in Dublin in April 2019.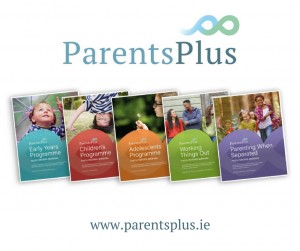 When: 9th April 2019 – 2:00pm – 4:00pm
Location: Nurses Education Centre, Dublin 7
Cost: Free to attend, but registration is required below
This seminar is suitable for both practitioners and service managers who want to gain an understanding of the five Parents Plus programmes and how they can best be implemented within individual services. Samples of each programme will be presented as well as the evidence base along with a number of implementation strategies for getting the programmes off the ground both within individual services and larger organisations.
The session is free but has a limited number of places. To book a place, please add attendees and their details below. Note when booking, click the invoice option on payment and you will not be charged.
Please note when booking this free seminar, you will be brought to the payment's page to confirm your booking. On this page, check all of your details and tick the box beside 'I wish to be issued with an invoice'. Then click the Process Order button. You won't be sent an invoice for this free seminar but your order will then be confirmed.