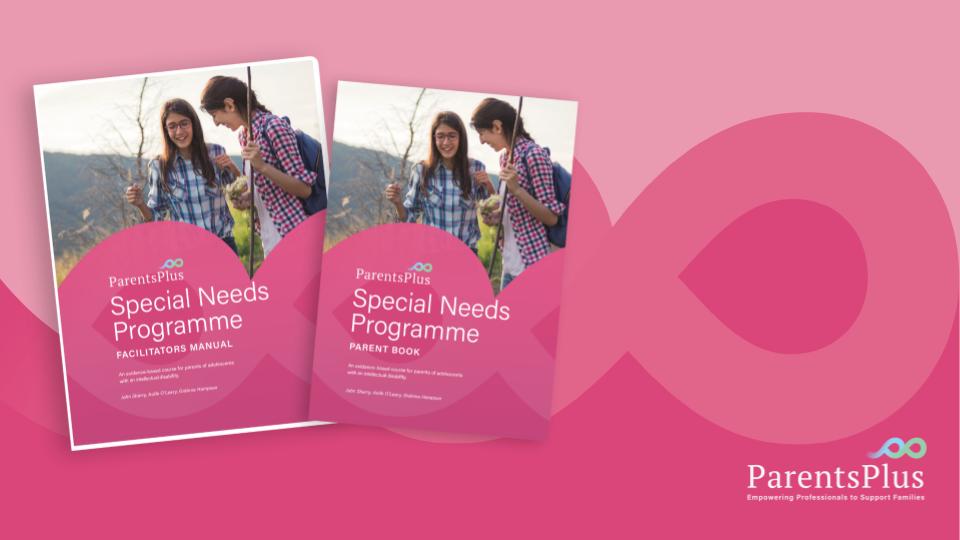 The Parents Plus Special Needs Programme for Professionals is a first in the world programme for families rearing an adolescent with an intellectual disability and was created to help parents to manage challenges, improve their family's well-being and strengthen their links with other parents.
Training for this unique and invaluable Programme is taking place on the 5th, 7th & 8th December.
Through training in the Special Needs Programme, you will learn how to empower parents to positively manage the many hidden challenges and isolation that can be common for parents of adolescents with an intellectual disability, as well as improve the well-being of all family members and prepare young people for future transitions and adulthood.
This programme is practical, solution-focused and draws on parents strengths. It is suitable for professionals including social workers, therapists, teachers to assist parents who are raising an older child or adolescent with a mild, moderate or severe intellectual disability, and who may also have an additional diagnosis, such as Autism Spectrum Disorder (ASD) or a physical disability.
By training as a facilitator of this programme, you will learn how to support parents of an adolescent with special needs to:
Manage behaviour and emotional problems
Deal with puberty, sexuality and relationships
Reduce their own stress as parents
Support all relationships in the family
Build self-esteem and confidence
Advocate for their child or adolescent
Support education and development
Prepare their child for adulthood and future transitions
Like each of our extended suite of 8 professional programmes, The Special Needs Programme has been co-developed with services and families and is supported with a robust evidence base, well-defined outcomes and backed by 25 years of research.
This professional programme will empower you to have better outcomes in your service equipping parents with the tailored tools for a brighter future for their families.