Parents Plus Quality Protocol
Parents Plus have an evidence-based  Quality Protocol that is designed to ensure an effective delivery of the Parents Plus Programmes post training. The Quality Protocol centres on a series of checklists to ensure you are establishing client centred goals, gaining session by session feedback from clients and that you regularly have a reflective space in supervision to review client progress and your own practice.  In addition, Parents Plus offer group and individual supervision as well as implementation support to agencies to ensure effective delivery of the programme.
Parents Plus Accreditation Process
Parents Plus have established an accreditation process which supports facilitators to achieve the best outcomes for their families . The benefits of gaining accreditation include:
Learning to deliver the PP programmes in evidence-based way that ensures sustained outcomes for families.
A major CPD achievement as a professional.
Becoming an Accredited Facilitator and to use this certification after your name
Being able to deliver the Parents Plus Programmes in a private capacity.
Being able to apply to work as Parents Plus mentor and supervisor to support other facilitators.
Steps to Accreditation
Attend Parents Plus facilitator training for the selected Programme
Facilitate at least two Parents Plus groups, following the PP Quality Protocol, using session protocols and client ratings and evaluations
Attend PP Supervision process, including video reviews of group practice
Submit a practice portfolio for review by Parents Plus
Range of Accreditations
There will be a separate accreditation process for each of the five programmes, leading to the titles of:
Parents Plus Early Years Programme Accredited Facilitator (also open for facilitators using the Parents Together Community course format)
Parents Plus Children's Programme Accredited Facilitator
Parents Plus Adolescents Programme Accredited Facilitator
Working Things Out Programme Accredited Facilitator ( the young person feedback forms for WTO accreditation are in the facilitator manual)
Parents Plus 'Parenting When Separated' Programme Accredited Facilitator
See box below to book Parents Plus Supervision. We recommend you book the accreditation package which includes an initial telephone consultation with a PP trainer, four supervision sessions and the cost of your portfolio submission.
For more information, please download: PP Facilitator Accreditation Process 2016  
Supervision / Accreditation
Individual Supervision

(ONGOING)

Parents Plus Accreditation Package

(ONGOING)

Accreditation Submission

(ONGOING)
Additional Training
Parents Plus in School Settings – Advanced Practice Workshop 27/09/2018

on 27/09/2018 in Dublin

Introduction to Parents Plus, Dublin 13/09/2018

on 13/09/2018 in Dublin
Order Parent Booklets
Please note that you may only order parent booklets and other programme materials if you are a facilitator who already has been trained or belong to an agency with staff already trained.
Become a PP Mentor and Support other Professionals to Deliver the PP Programmes
Parents Plus is looking to recruit a number of experienced facilitators who can act as professional mentors to other Parents Plus Facilitators.
The role of a Parents Plus mentor is to:
Support new Parents Plus Facilitators to get their groups up and running.
Provide supervision to facilitators as they deliver their Parents Plus Groups.
Host Parents Plus regional network meetings and local supervision groups.
Support facilitators to progress through the Parents Plus Accreditation process.
In order to be a Parents Plus mentor you need to be:
Trained and experienced in running one or more of the Parents Plus Programmes.
Accredited or in the process of accreditation in one or more of the Parents Plus Programmes.
Have specific experience in providing professional supervision and training – this is a distinct advantage.
Able to give an indication of how much time you can allocate to mentoring.
Acting as a Parents Plus Mention can be done:
As part of your role within your agency.
In a voluntary capacity within an identified project.
In return for a fee from Parents Plus for a designated project.
If you are recruited as a Mentor, you will be provided with training and supervision from the Parents Plus Training Team and you will become part of a network of Parents Plus Mentors.
To apply to be a mentor, please fill out the application form here and send it back to siobhan@parentsplus.ie 
Parents Plus Champion Facilitators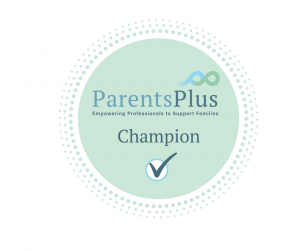 In order to support the delivery of groups to parents and young people, Parents Plus have identifed a number of 'champion' facilitators who deliver the programmes on a regular basis in a quality way within their agencies. These champion facilitators are eligible to buy reduced cost materials, supervision and additional training to support their ongoing delivery of services within their agency.
The Champion Facilitators for September 2017 – 2018 have already been awarded this status but we hope to have more Champion Facilitators next year. Information about how to apply to become a Champion Facilitator will be provided in 2018.
Benefits of becoming a Parents Plus Champion
Receive extra support and supervision from Parents Plus Trainers to deliver your services to families.
Access to lower cost programme booklets, supervision and additional training.
Be eligible to apply for a discount on Parents Plus training for colleagues in your agency (who are going to co-facilitate groups).
Be recognised as delivering a quality service in your community.
Receive a special certificate from Parents Plus to recognise your champion status for the year you receive it.
Discounts for Parents Plus Champions
1 free supervision session annually and 50% discount on further supervision sessions
25 % discount on Parent booklets
25% discount on additional Parents Plus training
25% discount on facilitator training for colleagues in your agency who can act as co-facilitators
Discounts are available for the duration of champion status (e.g. 1/9/2017 – 31/12/2018 in the first round)
Parents Plus reserve the right to vary discount rates at any point.
Criteria to becoming a Parents Plus Champion
To become a champion facilitator you need to be:
Delivering one of the Parents Plus programmes at least two times a year.
Following the Parents Plus Quality Protocol as you deliver the programmes.
Be an accredited facilitator or be working towards accreditation.
Have run a Parents Plus programme at least twice in the preceding 18 months and have plans to run one twice in the next 18 months.
Be prepared to return to Parents Plus audit data on groups run (e.g. anonymised parent course review forms at the end of each group).
Have the full support of management in your agency re: becoming a Parents Plus Champion Facilitator.
Be prepared for you and your agency to be identified as a Parents Plus Champion on the Parents Plus website and within our social media communications.