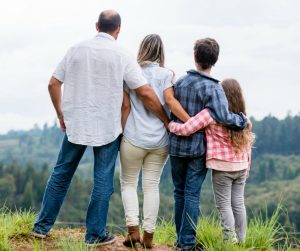 Parents Plus are currently developing a new parenting programme specifically targeted at the needs of families with an adolescent with an intellectual disability.
Overview
The aim of this programme is to address the particular needs of parents of adolescents with an intellectual disability. The programme will be particularly targeted at older children, adolescents and young adults, although it may also be delivered to parents of younger children.
The programme will be generic in nature, supporting parents to deal with the challenges of raising a child with a disability rather than providing individual information on specific disabilities. It will be designed to be relevant to all levels of intellectual disability as well as for parents of children who also have a diagnosis of ASD, ADHD or a physical disability. Material from the existing Parents Plus programmes is incorporated as appropriate.
The content will be delivered over seven weeks and will contain two topics each week, one focusing on supporting families and the other on supporting the child with the disability.
Eight focus groups were conducted with parents of children with a disability to inform the development of the programme. As well as this, we are delighted to be working with a number of professionals and services in the development of this programme, including:
Maura Byrne and Bridin Finn in Saint John of God, Carmona Services
Aoife Martin, St. Paul's Service
Julie Bunworth and Louise Vickers, Enable Ireland, Wicklow
Úna Sharry, Brothers of Charity, Cork
Ciara Ní Raghallaigh and Scoil Chiarain, Glasnevin
Erica Calder and Katie Murphy, Enable Ireland, Tallaght
Colman Parker and Jackie Flanagan, Stewart's Care, Dublin
Disability teams in the Northern Health and Social Care Trust (NHSCT)
If you or your service are interested in getting involved in this programme, please email aoife@parentsplus.ie
Getting involved with the pilot of this programme
We are eager to collaborate with practitioners working within disability services to trial the new programme materials and to participate in our pilot evaluation of the programme in Autumn 2019. The pilot programme is being evaluated as part of a doctorate in clinical psychology, based in Trinity College Dublin. Professionals who participate in the pilot programme will receive free of charge:
Full programme materials and parent booklets for pilot.
Two day Training in the Programme
Post training supervision.
Support towards becoming an accredited facilitator
To be eligible to participate in the pilot programme, you must;
Work in a service for children with an intellectual disability aged 11-18 years
Have a co-facilitator who is able to complete the training and run the programme alongside you
Have the support of your line manager and your service manager
Be able to recruit a group of 8-15 parents to run the 7 week group with, starting in Autumn 2019
Commit to participating fully in the evaluation and research
Attend information seminar with co-facilitator on 18th June and two day training on the 10th and 11th of September 2019 in Dublin.
To apply to participate in the pilot of this programme, please email aoife@parentsplus.ie by the closing date, Thursday, 2nd May at 5pm with the following documents completed: