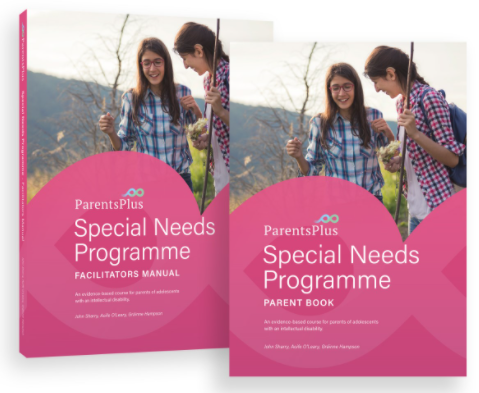 Monday 27th June 2022 11am – 12:30 pm online by zoom
You are invited to attend special practice seminar to celebrate and support the work of the many practitioners who are delivering the PPSN throughout Ireland and the UK.
Sign up to hear about how practitioners have successfully delivered the programme in a variety of settings, with a wide range of disabilities and age ranges as well as the current research and feedback from parents attending the groups
Speakers and presentations
Parent empowerment and the Parents Plus Special Needs Programme (PPSN), Prof John Sharry Parents Plus
Rolling out the PPSN with follow up groups – the Scottish Experience. Sylvia Todman, Health and Wellbeing Practitioner, Thistle Young Persons Team
How the PPSN can work within a HSE disability setting and align with PDS principles. Eileen Crowley, Senior Occupational Therapist Limerick
Supporting parents in a school for children with mild ID – Suzanne Anglim and Emma Earley,  Resource Teachers Scoil Chiarain
Delivering the PPSN with families with younger children with Intellectual Disabilities. Catherine McConnell,  Therapeutic Social Work Senior Practitioner in the Children's Learning Disability Therapeutic Service in the Northern Health and Social Care Trust
What is working for the parents – feedback from recent evaluation Lesley Lally, Research Psychologist Parents Plus
You are most welcome to attend if you are a professional who is already trained in delivery of PPSN, or if you are a manager or practitioner interested in finding out how the PPSN will work in your service.
We will also share details on the Rethink Sponsorship which allows you to apply for fully funded training and programme materials.
The seminar is free to attend but you must register in advance here
The rollout of the Parents Plus Special Needs Programme (PPSN) has been supported by Rethink Ireland, the JP McManus Benevolent Fund, the Ecclesiastical Movement for Good fund, and the Sunbeam House Trust.